ESPAÑOL ABAJO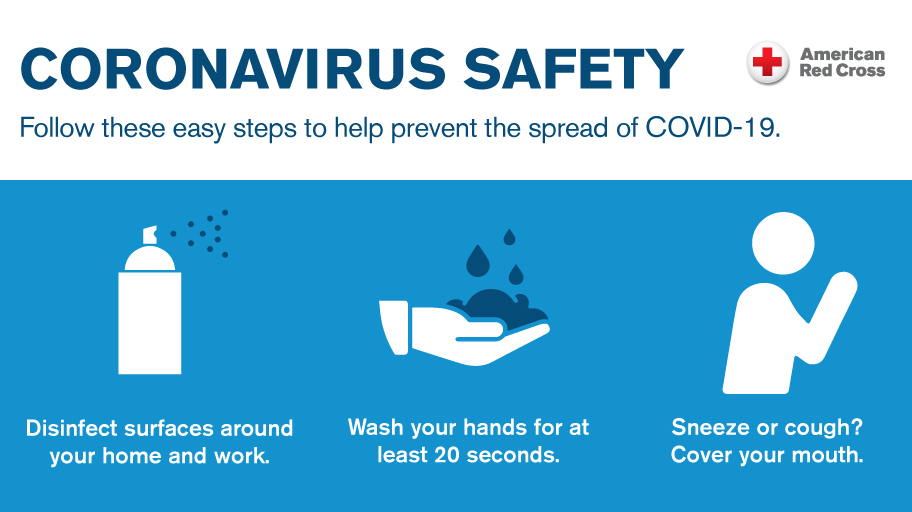 COVID-19 is a virus that affects different people in different ways. Infected people have had a wide range of symptoms reported – from mild symptoms to severe illness.
Symptoms may appear 2-14 days after exposure to the virus. People with these symptoms may have COVID-19:
Fever or chills
Cough
Shortness of breath or difficulty breathing
Fatigue
Muscle or body aches
Headache
New loss of taste or smell
Sore throat
Congestion or runny nose
Nausea or vomiting
Diarrhea
Look for emergency warning signs for COVID-19. If someone is showing any of these signs, seek emergency medical care immediately:
Trouble breathing
Persistent pain or pressure in the chest
New confusion
Inability to wake or stay awake
Bluish lips or face
---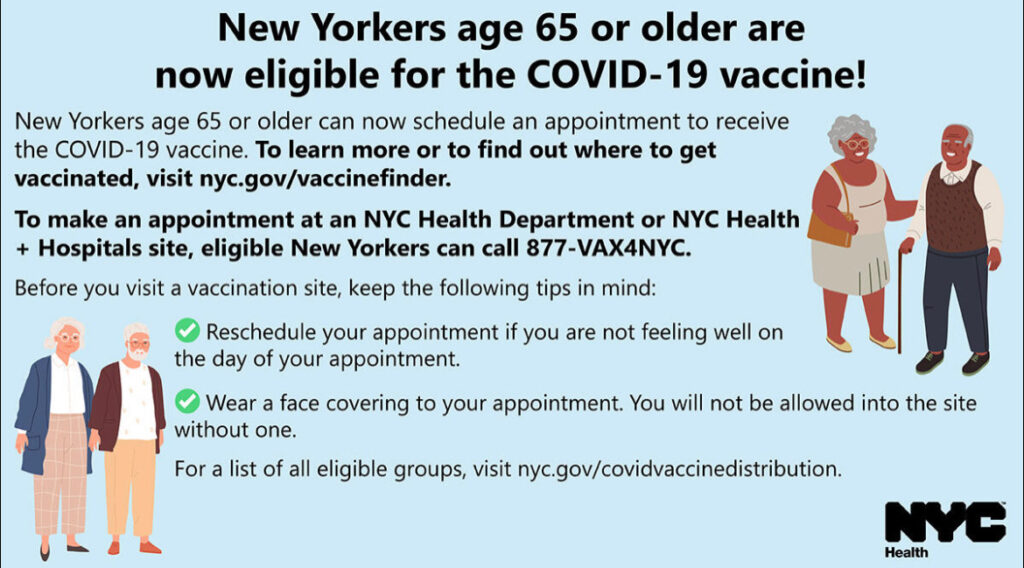 VACCINES
Anyone age 65+ is eligible to receive the COVID-19 vaccine in Phase 1B of vaccine distribution. To schedule an appointment call 1-877-VAX-4NYC (1877-829-4692) between the hours of 8:00AM – 9:00PM, seven days a week.
VACCINE COMMAND CENTRAL
https://www1.nyc.gov/site/coronavirus/vaccines/covid-19-vaccines.page
VACCINE HOTLINE
Call for info & to schedule appointments: 1-833-NYS-4-VAX (1-877-829-4692)
---
LOCATIONS
See full list / vea lista completa
ESPAÑOL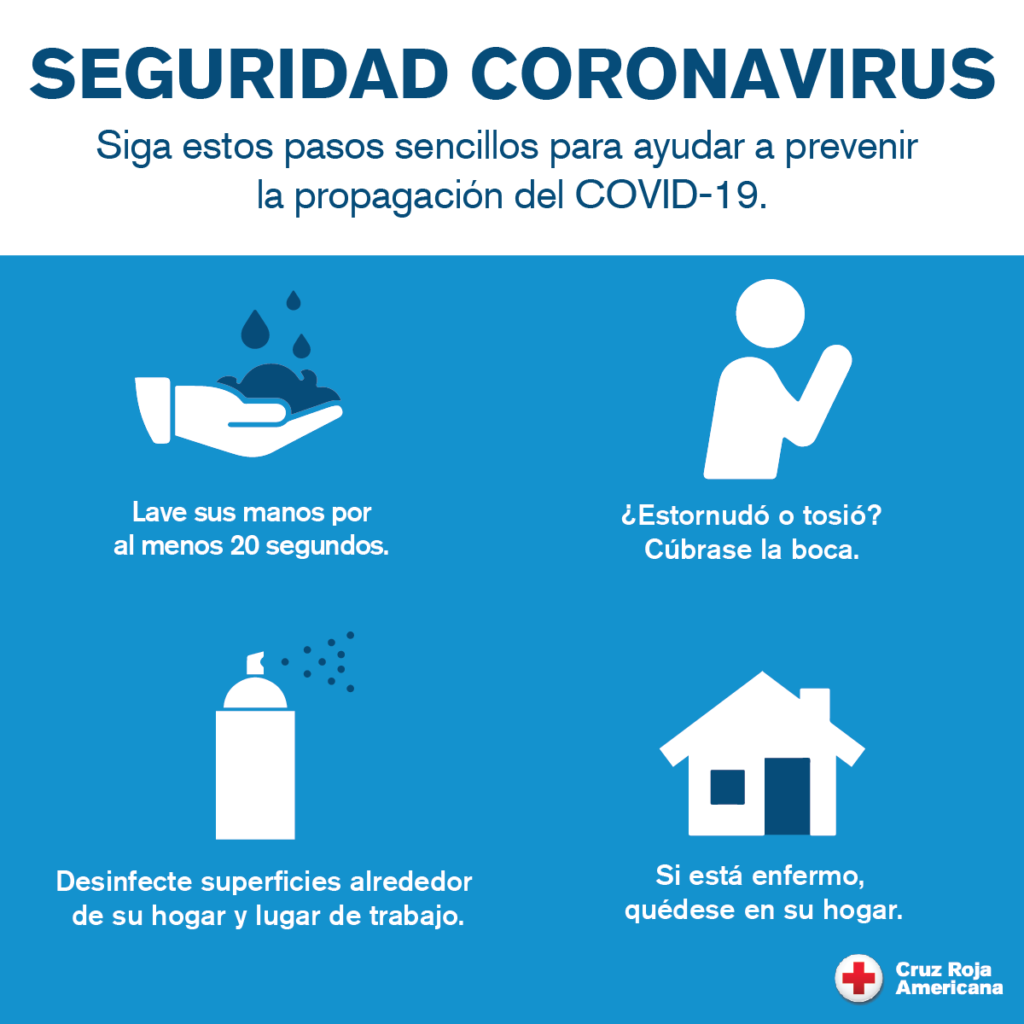 COVID-19 es un virus que afecta a diferentes personas de diferentes maneras. Se ha informado de una amplia gama de síntomas de personas infectadas, desde síntomas leves hasta enfermedades graves.
Los síntomas pueden aparecer de 2 a 14 días después de la exposición al virus. Las personas con estos síntomas pueden tener COVID-19:
Fiebre o escalofríos
Tos
Falta de aire o dificultad para respirar
Fatiga
Dolores musculares o corporales < / li>
Dolor de cabeza
Nueva pérdida del gusto u olfato
Dolor de garganta
Congestión o secreción nasal
Náuseas o vómitos
Diarrea
Busque señales de advertencia de emergencia para COVID-19. Si alguien muestra alguno de estos signos, busque atención médica de emergencia de inmediato:
Dificultad para respirar
Dolor o presión persistente en el pecho
Nueva confusión
Incapacidad para despertar o permanecer despierto
Labios o cara azulados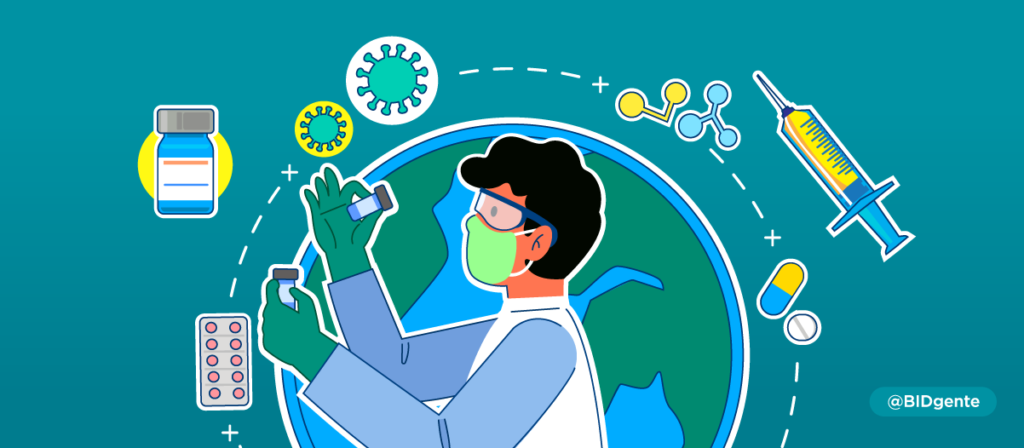 VACUNAS
Cualquier persona de 65 años o más es elegible para recibir la vacuna COVID-19 en la Fase 1B de distribución de la vacuna. Para programar una cita, llame al 1-877-VAX-4NYC (1877-829-4692) entre las 8:00 a. M. Y las 9:00 p. M., Los siete días de la semana.
CENTRAL DE COMANDO DE VACUNAS
https://www1.nyc.gov/site/coronavirus/vaccines/covid-19-vaccines.page
LÍNEA DIRECTA DE VACUNAS
Llame para info y para pedir una sita: 1-833-NYS-4-VAX (1-877-829-4692)

---
LOCALES
Montefiore Marble Hill Family Practice
5525 Broadway, Ground Floor, Bronx, 10463
(718) 884-0279
Pedir una cita: https://vaccinefinder.nyc.gov/locations/1505
AdvantageCare Physicians – Harlem Medical Office
215 West 125th Street, Manhattan, 10027
Pedir una cita: (866) 749-2660
Rite Aid Store #4945
35-45 West 125th, Manhattan, 10027
Pedir una cita: https://riteaid.reportsonline.com/rsched/program/NYC2021/Patient/Advisory?queueittoken=e_riteaidnyc2021~q_3cbc6f85-238c-443e-b34d-74b3ffd3db6a~ts_1610476959~ce_true~rt_queue~h_f6b0f4466b9f812bf45a9e65c18294b82d8a35b076621004ed77d4371412df52