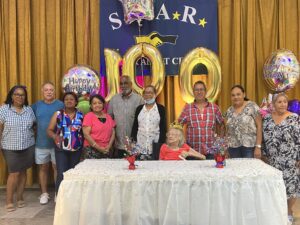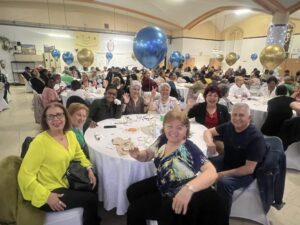 ABOUT US / SOBRE NOSOTROS
~ESPANOL ABAJO
Welcome to STAR Older Adults Center!
Since 1970, Star Older Adults Center has provided supportive services to older adults in Washington Heights at 650 West 187th Street between Broadway and Wadsworth Avenue. The center is easily accessible via buses on Broadway and Amsterdam Avenue and by the A and 1 subway lines.
Mission
The mission of Washington Heights Community Services, Inc. (WHCS) is to promote successful aging and meet the needs of the well and frail elderly with concrete services.
Philosophy
STAR is committed to generating social capital by enriching our members' lives, maximizing their independence, and strengthening supportive linkages among older adults. Often a newcomer to STAR spots a center member who lives downstairs from her but to whom she has never spoken. During the course of the next week the neighbors form lasting bonds while sharing nutritious meals, participating in the same English class, having their blood pressure read, going on shopping trips, or traveling to City Hall to advocate for legislation to benefit Older adults.
History
STAR originated in 1970 as a neighborhood storefront providing older adults citizens with information and referrals, emergency food, and opportunities for social action. Within four years we had evolved into a multi-purpose older adult center. Until 2009 we delivered nutritious meals to dozens of our homebound elderly neighbors every weekday. Recently STAR has inaugurated such wellness activities as a walking club, yoga, and fall prevention. Over the years our agency has been widely recognized as an effective advocate for older adults.
Our Members and Staff
Participation in STAR is open to any New York City resident aged 60 or older. Our current membership exceeds 1670; an average of 165 older adults come to the center every weekday. Most of our participants live north of 155th Street in Manhattan. Because almost 75 percent of our members are recent immigrants from the Dominican Republic or elsewhere in Latin America, STAR's staff is fully bilingual in English and Spanish. Our remaining members are Greek, Irish, Italian, Armenian, and Afro-American.
STAR's staff of eight – six full-time and two part-time employees – bring stringent credentials mandated by the City of New York and regularly update their skills. Nearly all staff members live or have lived in Washington Heights and are familiar with the needs of local older adults. We are most fortunate that forty of the center's members volunteer as program aides.
Hours of Operation
STAR older adults's hours of operation are

Monday through

Friday from

8:00am-4:00pm

.

Congregate Lunch: 12:00 PM to 1:00 PM
~ESPAÑOL~
SOBRE NOSOTROS
Bienvenidos a STAR Older Adults Center!
Desde 1970 brindamos servicios muy necesarios a las personas mayores en Washington Heights. Aunque ESTAMOS CERRADOS y solo abierto para clases en linea, STAR se encuentra en 650 West 187th Street entre Broadway y Wadsworth Avenue. Se puede acceder fácilmente a través de autobuses en Broadway y Amsterdam Avenue y por las líneas A y 1 del metro.
Misión
La misión de Washington Heights Community Services, Inc. (WHCS) es promover el envejecimiento exitoso y satisfacer las necesidades del pozo y personas mayores frágiles con servicios concretos.
Filosofía
STAR se compromete a generar capital social mediante el enriquecimiento de la vida de nuestros miembros, la maximización de su independencia y el fortalecimiento de los vínculos de apoyo entre las personas mayores. A menudo, un recién llegado a STAR ve a un miembro del centro que vive abajo de ella, pero a quien nunca ha hablado. Durante la próxima semana, los vecinos forman lazos duraderos mientras comparten comidas nutritivas, participan en la misma clase de inglés, se le lee la presión arterial, van de compras o viajan al Ayuntamiento para abogar por una legislación que beneficie a las personas mayores.
Historia
STAR se originó en 1970 como una tienda de vecindario que proporciona a las personas mayores información y referencias, alimentos de emergencia y oportunidades para la acción social. En cuatro años, nos convertimos en un centro para personas mayores con múltiples propósitos. Hasta el año 2009, entregamos comidas nutritivas a docenas de nuestros vecinos mayores confinados todos los días de la semana. Recientemente STAR ha inaugurado actividades de bienestar tales como un club para caminar, yoga y prevención de caídas. A lo largo de los años, nuestra agencia ha sido ampliamente reconocida como una defensora eficaz de las personas mayores.
Nuestros miembros y personal
La participación en STAR está abierta a cualquier residente de Nueva York de 60 años o más. Nuestra membresía actual excede 1670; un promedio de 165 adultos mayores vienen al centro todos los días laborables. La mayoría de nuestros participantes viven al norte de la calle 155 en Manhattan. Debido a que casi el 75 por ciento de nuestros miembros son inmigrantes recientes de la República Dominicana o de otras partes de América Latina, el personal de STAR es completamente bilingüe en inglés y español. Nuestros miembros restantes son griegos, irlandeses, italianos, armenios y afroamericanos.
El personal de STAR de ocho – seis empleados de tiempo completo y dos de medio tiempo – traen credenciales rigurosas ordenadas por la Ciudad de Nueva York y actualizan regularmente sus habilidades. Casi todos los miembros del personal viven o han vivido en Washington Heights y están familiarizados con las necesidades de las personas mayores locales. Somos muy afortunados de que cuarenta de los miembros del centro sean voluntarios como ayudantes del programa.
Horas de operación
STAR OLDER ADULTS Center está abierto de lunes a viernes de 8:00 am a 4:00 pm
Almuerzo congregado: 12:00 pm a 1:00 pm