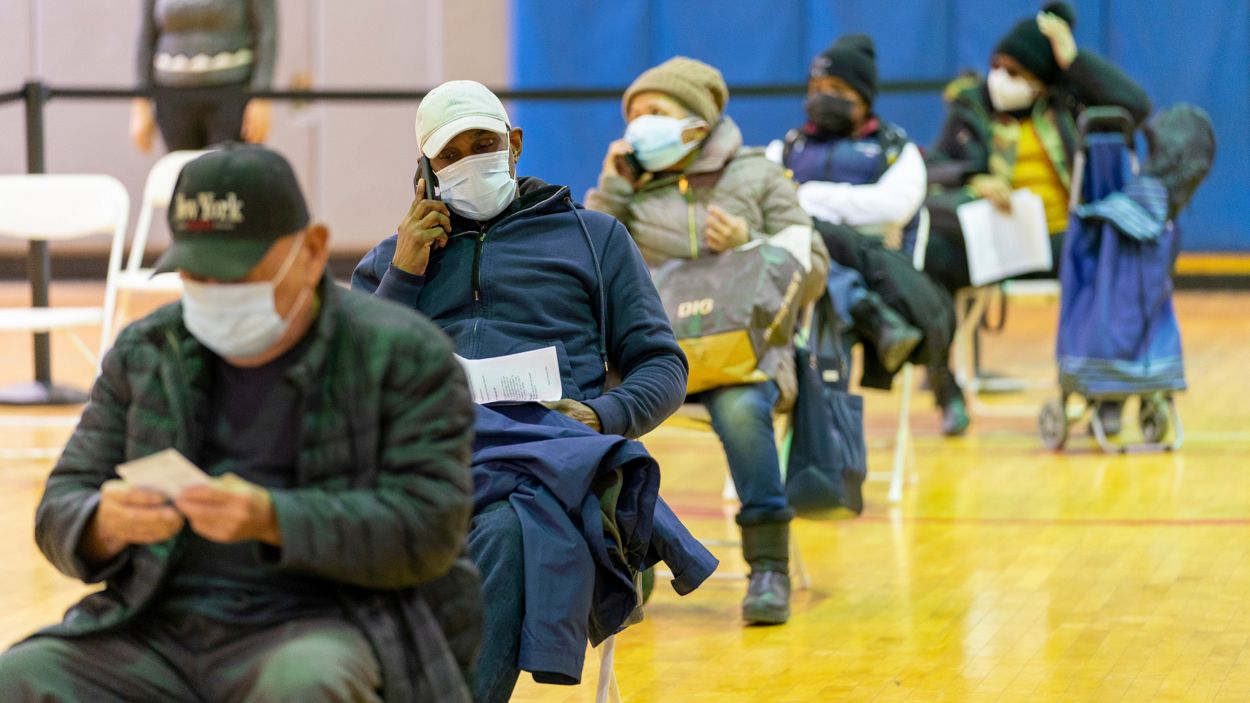 Why Some Manhattan Seniors Have Had A Better Shot at Getting the Vaccine Than Their Peers
By Ari Ephraim Feldman New York CityPUBLISHED 8:00 PM ET Feb. 02, 2021
https://www.ny1.com/nyc/all-boroughs/news/2021/02/02/some-upper-manhattan-seniors-have-special-vaccine-access
NEW YORK — The S.T.A.R. Senior Center on 187th Street in Washington Heights is physically closed. But for the past three weeks, its leadership, caseworkers and even kitchen staff have been working long days from their homes with one goal only: getting seniors signed up for the COVID-19 vaccine.
Maggie Hernandez, a caseworker at S.T.A.R., said that as of Tuesday they had gotten 127 members vaccinated, out of 476 active members, nearly all of whom speak Spanish exclusively and live in the largely Hispanic Washington Heights area or across the river in the Bronx.
About eight minutes into a phone conversation with a reporter Friday, Hernandez said it was a "miracle" that she hadn't been interrupted by a call from a senior inquiring about the vaccine.
"People want the vaccine so badly, and they're calling every second of the day," she said. "From eight to four, we're just going, going, going."
---
What You Need To Know
Some senior centers in Upper Manhattan have access to a special vaccine scheduling website to get seniors vaccines at the Washington Heights Armory
Senior centers elsewhere in the city are struggling to make appointments for their members
One expert says that this scheduling website should be a model for other large hospitals that are offering the vaccine
---
At other senior centers around the city, it is also all hands on deck to call adults aged 65 and older to educate them about the vaccine — it's safe for the elderly, it contains no active virus, and you can't get COVID-19 from receiving it — and try to schedule appointments for them. For many elderly New Yorkers without smartphones or email access or who don't speak English, navigating the scheduling websites and hotlines alone is impossible.
That's where the process breaks down for most centers. They are using the same glitchy, complicated sign-up portals as the rest of the city's vaccine-eligible citizens to try and get appointments at overwhelmed and under-supplied vaccine sites throughout the city.
Yet since people 65 and over became eligible for the vaccine about three weeks ago, S.T.A.R. and a group of about 40 other senior care centers, churches, and community organizations in Upper Manhattan have had a secret weapon of sorts: a parallel sign-up page for the vaccine site at the Washington Heights Armory that allows them to create appointments on their members' behalf without needing an email address or cell phone number.
The special website, created by NewYork-Presbyterian Hospital, the hospital network running the Armory operation, has given elderly residents in the area who belong to one of the organizations in the group a leg up over their peers elsewhere in the city, and it's been highly successful, according to senior care providers.
Of the roughly 25,000 appointments the Armory has seen so far, about 10,000 appointments have been for northern Manhattan residents, according to a spokesperson for the hospital.
That includes about 6,000 appointments for elderly people made through the special portal, the spokesperson said.
The Armory was the focus of controversy last week when NY1's partner THE CITY reported that the site was vaccinating a large number of suburbanites, and didn't have people who spoke Spanish working at its entrance.
The main scheduling portal for the Armory site is "not only strange and unwieldy, but sometimes it kicks you out, sometimes it says no vaccines available," said Fern Hertzberg, the executive director at ARC XVI Fort Washington, a senior services provider whose clients are nearly all exclusively Spanish-speaking, who encouraged the hospital to make the special portal.
"It's a challenge," Hertzberg said, "and we're trying to supersede the challenge by creating a workaround."
NewYork-Presbyterian said that while it has trained dozens of local organizations on the special portal, it did not advertise it publicly.
"We have been in direct contact with local organizations and are working with elected officials and key community partners who serve the 65+ population to engage them in this effort and ensure access to all," said Alexandra Simpson, a spokesperson for the hospital, in an email.
The system has allowed centers like ARC XVI and S.T.A.R. to efficiently make appointments, without trying to set up special online profiles on their seniors' behalf or wait hours on the phone.
"We're registering them if they're not registered, we put them in the system, and then we move on to the next person," said Hernandez. "It's like this revolving door."
'There are no vaccines, there are no appointments'
Senior care centers and community organizations that serve seniors elsewhere in the city are not so lucky.
Some organizations, like the Queens Community House, are slowly reaching out to thousands of members to educate them about the vaccine, using scripts and information provided by the Department for the Aging (DFTA), the city agency that oversees senior care, and the city's Department of Health and Mental Hygiene.
Staff and volunteers at Queens Community House had reached 1,500 out of 5,000 of their members as of last week but had only secured vaccines for a few dozen, according to Irina Sarkisova, the director of senior centers at the organization.
About three dozen employees of RAICES senior centers are now calling thousands of members who attend one of their nine locations throughout Brooklyn and Queens. They are also relying on kitchen staff in some cases to help translate for members who speak uncommon languages or dialects.
Like Queens Community House, they've been mostly unable to make appointments for the members.
"We haven't really been successful, to be honest with you," said Suyapa Blanco-Hernandez, the deputy director of RAICES. "Because there are no vaccines, there are no appointments. Our staff is calling three or four times, going online, and there are no appointments available for seniors."
Blanco-Hernandez said she was holding out hope, however, for a new initiative she had just heard about through DFTA. The project, she said, would create a parallel sign-up system like they have in Washington Heights for the Armory but would be accessible to senior care centers in all five boroughs.
The reported trends are even more dramatic for recipients aged 65 and older: 54% of recipients are white, 12% are Asian, 14% are Hispanic and 11% are Black. The city's population breaks down as 32% white alone, 14.1% Asian, 29.1% Hispanic and 24.3% Black, according to 2019 U.S. Census estimates.
Ruth Finkelstein, the executive director of the Brookdale Center for Healthy Aging at Hunter College, said in an interview that she had also heard the city was developing a portal for senior care services providers.
But a spokesperson for DFTA said that there was no such project underway. The city's health department did not respond to an emailed list of questions about the possible sign-up portal. A spokesperson for the mayor referred a reporter to a "simplified" scheduling website for city health department-run vaccine sites.
The NewYork-Presbyterian model may be difficult to replicate elsewhere, because the community organizations that serve seniors in Upper Manhattan are unusually collaborative, said Finkelstein.
Since the state government largely delegated the vaccine distribution to private hospitals, instead of its health department, those hospitals "have a responsibility to create the kind of technology and outreach portals that are necessary to interface with the community based organizations," Finkelstein said.
"What this ought to be is a model, and that Northwell is doing that all over the city, that NYU is doing that, and that somebody is providing the resources for" the city's health department to make such a portal as well, Finkelstein said.
Finkelstein said that the flawed vaccine rollout stems from a lack of coordination between city and state agencies, private hospitals and community organizations.
"Here's this set of resources, here's this set of needs, and there isn't an entity that stitches them together and connects them with the people who are disconnected out in the community," she said.
In an emailed statement, Margaret Chin, a City Council member and the chair of the Council's Committee on Aging, said the city should be using its roughly 250 senior care centers to distribute the vaccine to elderly people, since the workers there are known to and trusted by their members.
"Older adults face unique challenges in accessing healthcare, whether it be technological barriers or insufficient language capacity," Chin said. "The Administration had months to prepare for vaccine distribution and yet we are still struggling to immunize our most vulnerable New Yorkers."
Vaccine demographic disparities are starkest for seniors
Recently released demographic data on the vaccine rollout in the city has shown stark racial disparities, with Hispanic and Black people receiving the vaccine at much lower rates than their proportion of the city population. (The data comes from 300,000 city residents who received one dose and reported their race.)
The data was released on the heels of reports of Spanish-speaking residents of upper Manhattan and the Bronx having trouble navigating the vaccine site at the Washington Heights Armory. This week, the city updated its main appointment scheduler site to be functional in 10 languages besides English.
A report from the news outlet THE CITY found that a largely white and suburbanite group of vaccine recipients accessing the site, with the outlet's reporter needing to help translate interactions between vaccine staff and Spanish-speaking residents of the area. Following the report, the site announced that a minimum of 60% of new appointments would go to residents in the immediate area.
In some areas, targeted vaccine efforts have resulted in vaccine drives serving a diverse group of recipients. In the Cassidy-Lafayette Houses on Staten Island, a public housing development, city workers knocked on the doors of all 400 apartments in the complex to let them know that there would be a two-day vaccine drive on Jan. 16 and 17.
That weekend, more than 150 senior residents of the Houses — about evenly split between white, Black and Hispanic residents — received first-round vaccines, according to Nelson Gutierrez, a program director at the nearby Cassidy Coles Neighborhood Senior Center.
A looming contract process
The senior centers' all-out effort to get their members vaccinated comes as the city is set to begin the process of renewing all of its contracts with its senior services providers.
Those contracts expire in June, and normally the centers would be compiling responses to requests for proposals, or RFPs, sent out by the city. The city has already twice delayed sending the RFPs, senior care center workers say, once in December and once in January, and many senior centers are calling on the city to extend contracts another year to avoid a time-consuming and financially precarious contract process.
"It's not the time for an RFP right now, considering that we're in the middle of a pandemic," said Blanco-Hernandez of RAICES. "We have to make sure that seniors are okay, and that they're taken care of."
Responding to the RFPs can take a team of senior care center workers weeks, and with their physical facilities closed, they are worried that the contracts could slash their funding for things like on-site programs and cooking meals in their kitchens.
"It's fair, if we're not cooking, we don't need the money for the food," said Blanco-Hernandez. "But if the RFP is gonna eliminate the funding for food, will they fix it later on? Or are we gonna have to struggle and fight to get the money in the budget?"
In an emailed statement, a spokesperson for DFTA did not say whether the RFP process would be further postponed.
"It has been 10 years since the last RFP was issued and much has changed," the statement read. "The RFP will be released to address the ongoing growth and changing demographics of the city's older adult population."
A spokesperson for the mayor referred to the DFTA spokesperson's response.
Whether the process shifts to next year, senior care center workers said they are focused on keeping their members engaged and safe through the remainder of the pandemic. Many centers have created WhatsApp groups for members with smartphones and helped others get set up for Zoom programming.
"We're hanging in there," said Maggie Hernandez of S.T.A.R. "We're over the shock of 2020, and we're adapting to a new way of life."